This healthy Brussels Sprouts Salad is made with only a handful of ingredients and with the homemade salad dressing being made with pantry staples. You can even make it ahead of time for a family get-together or meal prep for the week.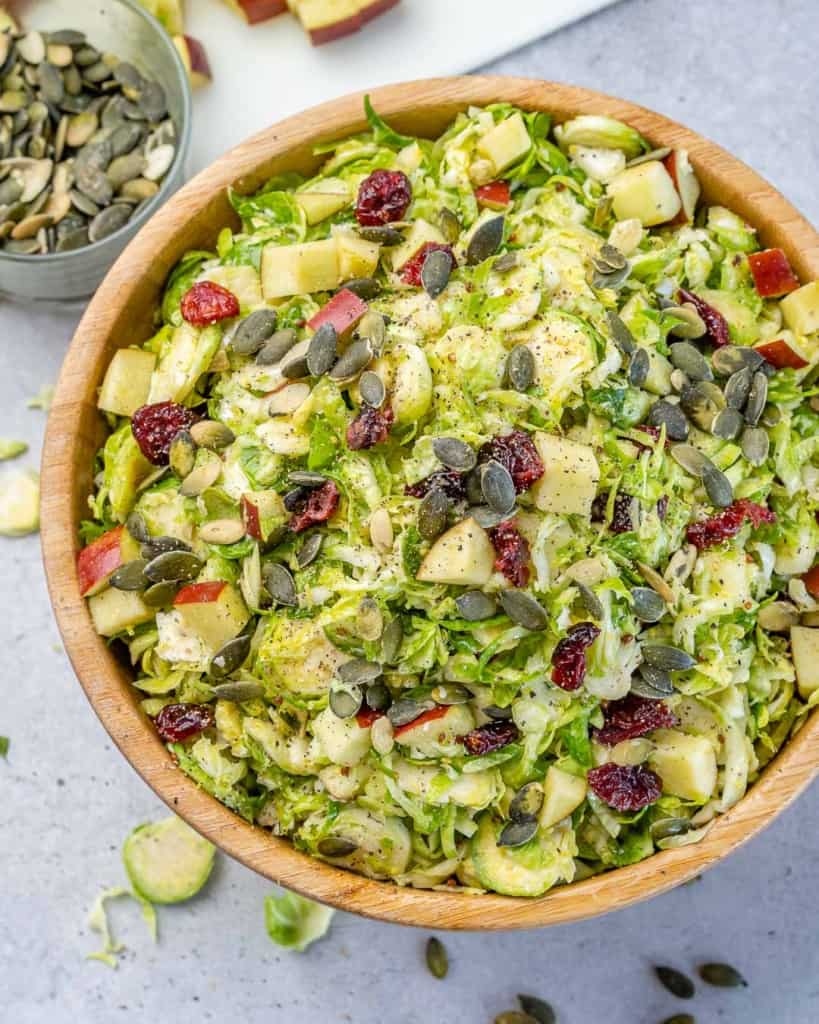 This Brussel Sprouts salad is fresh, crunchy, and oh so flavorful. Once you try this salad it will be your go-to salad throughout the winter. It's such a versatile salad as it's great for a family dinner and it's meal prep friendly as well. Packed with brussel sprouts, apples, pumpkin seeds, and dried cranberries, then tossed in with a delcious mustard bases vinegar dressing. Pair this salad with your main meal, or top it with your favorite protein for a full meal option.
Why You'll Love this Brussels Sprouts Salad
It has great textures! You'll love how crisp and crunch this salad is thanks to the shaved Brussels sprouts, the diced apples, and the seeds.
It's healthy! It shouldn't come as a surprise that this Brussels sprouts salad is packed with nutrients. It's a great vegetarian and gluten-free salad recipe as well.
It's make-ahead friendly. This salad can be prepped ahead of time to make dinner time easier or as meal prep. Just mix in the dressing when ready to eat.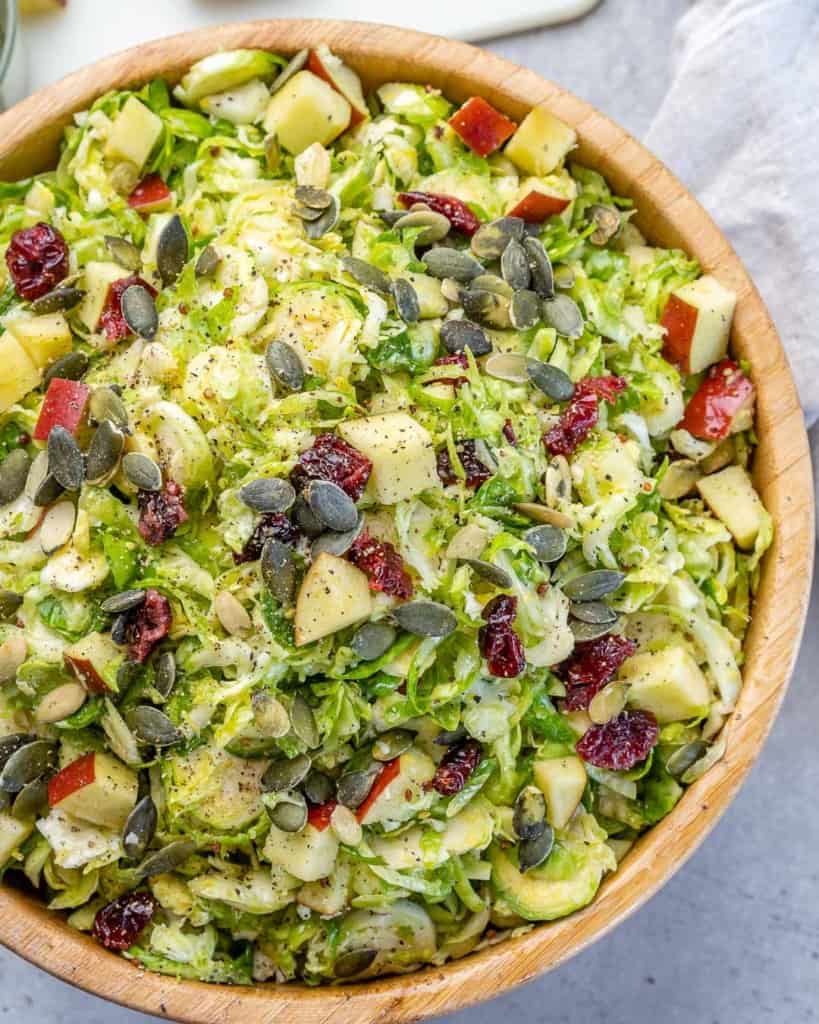 Ingredients You'll Need
This is just a list of ingredients you will need to make these Brussels Sprouts Salad. Full measurements are listed further down below.
For the Dressing:
Olive oil
Lemon juice — fresh lemon juice is ideal
Apple cider vinegar
Pure maple syrup
Wholegrain mustard
Garlic — minced
Kosher salt and black pepper — to taste
For the Salad:
Brussels sprouts
Apple of choice — chopped
Dried cranberries
Pumpkin seeds
Shredded or shaved Parmesan cheese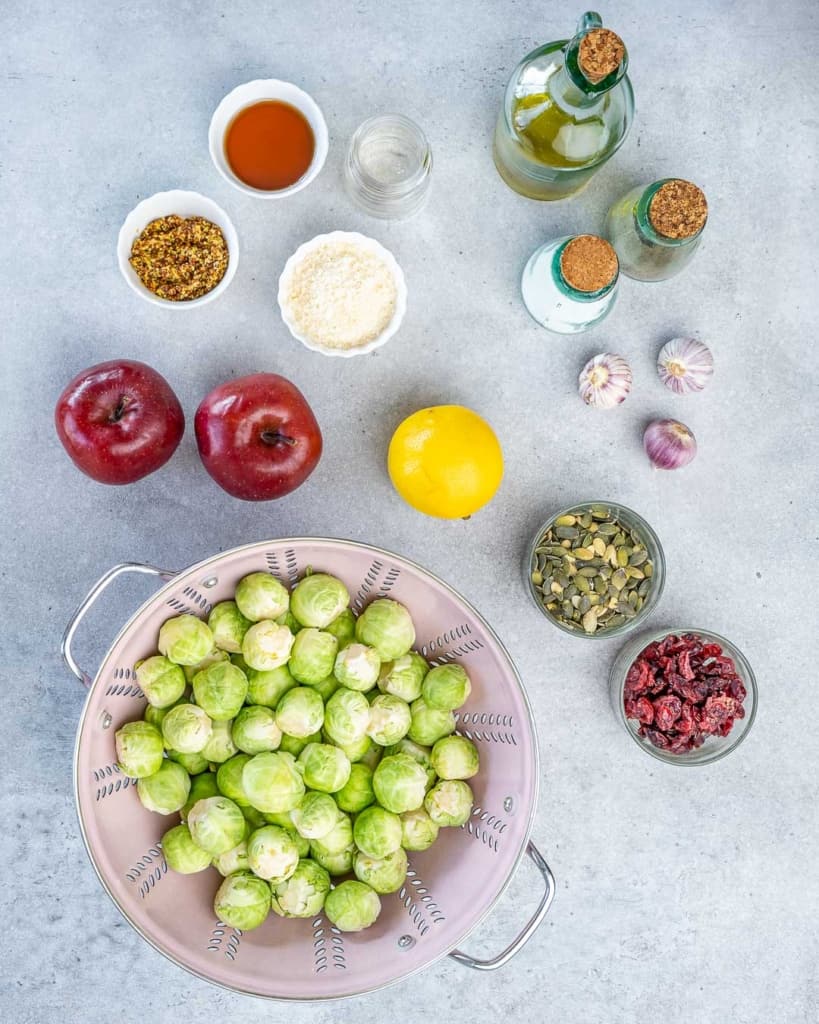 How to Make This Shaved Brussels sprouts Salad
Make the dressing: In a small bowl whisk the dressing ingredients really well. Set aside until ready to use.
Shave the Brussels sprouts: To prepare the shaved sprouts, use a food processor set with the slicing attachment or a very sharp knife.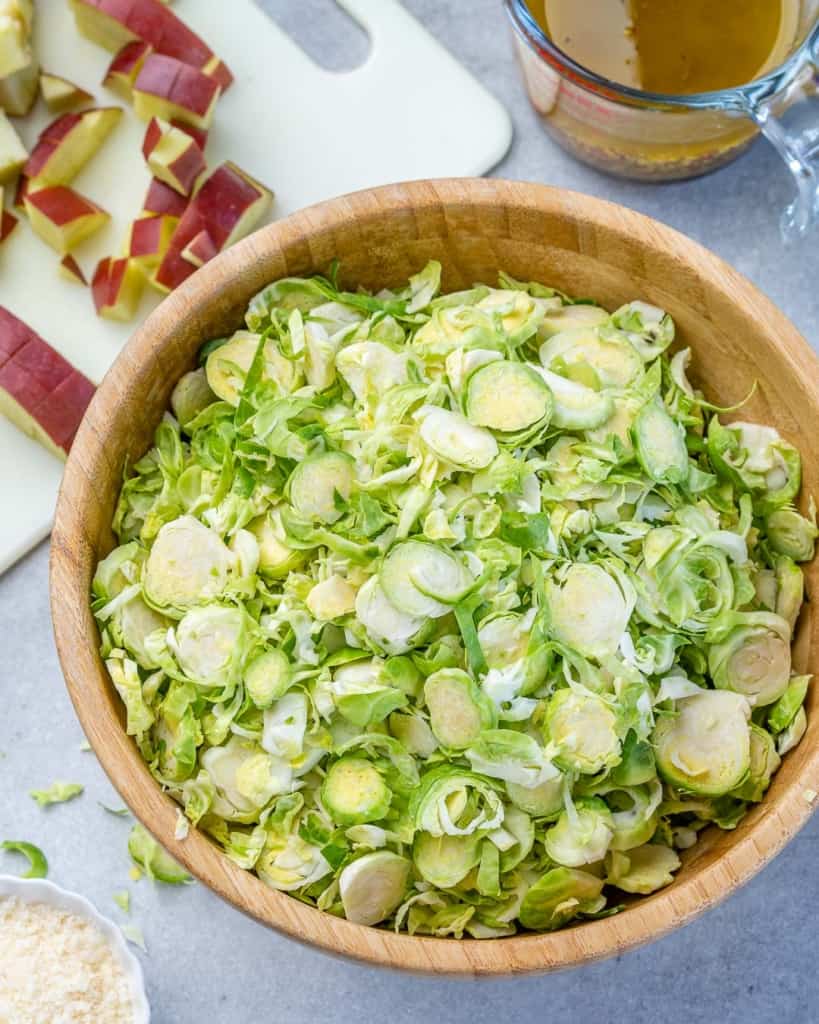 Combine the ingredients: To a large bowl add the shaved Brussels sprouts together with the remaining ingredients, except for the pumpkin seeds. Pour over the dressing and using your clean hands, toss and gently massage the sprouts. Sprinkle with pumpkin seeds and serve.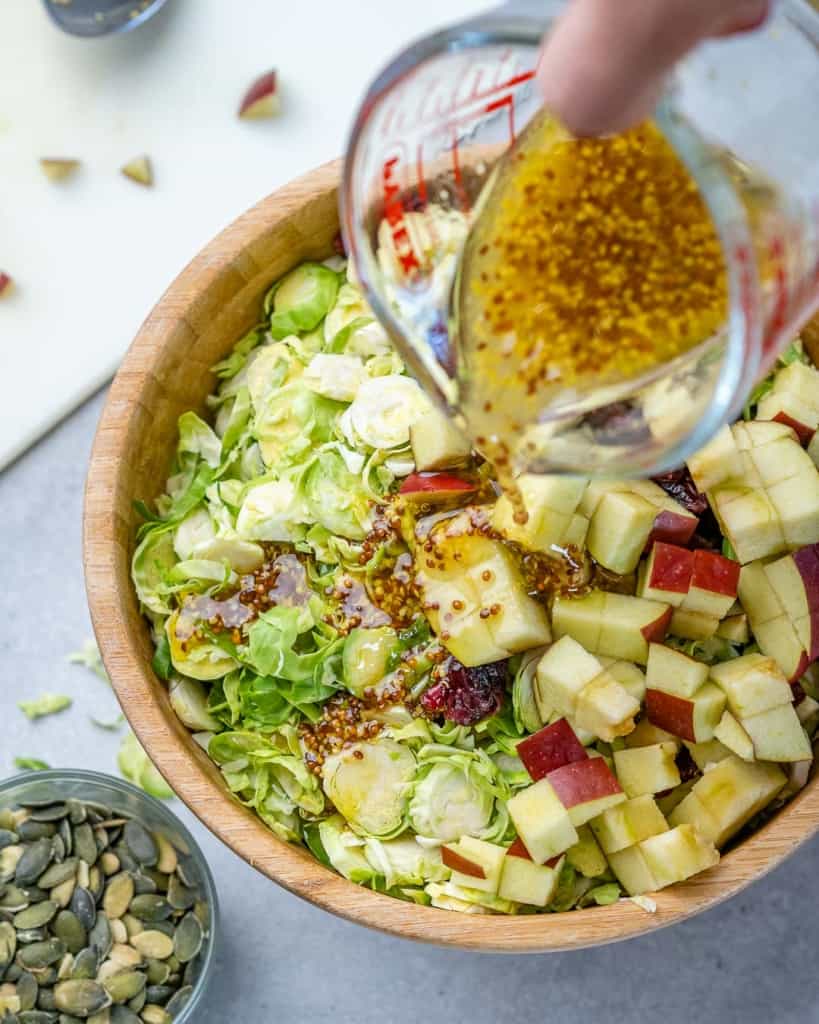 Tips and Substitutions
Apples: We suggest purchasing apples like Honeycrisp or golden delicious. We prefer sweet apples to go with the Brussels sprouts.
Pumpkin seeds: Feel free to substitute with any nuts or seeds you have on hand.
Parmesan cheese: Feel free to swap with any cheese you like. Goat cheese goes really well with this salad as well.
If you're not looking to keep this vegetarian-friendly and would like to add some protein, top the salad off with some sliced grilled chicken.
Be sure to trim and clean your Brussels sprouts. Cut off the ends of the Brussels sprouts and remove any damaged or wilted leaves.
If you don't have a food processor, you can use a mandolin to shave your Brussels sprouts or cut them thinly with a knife, the old fashioned way.
When you purchase Brussels sprouts, select sprouts that are bright green and are firm and heavy for their size. The leaves of the Brussels sprouts should be tightly packed. Avoid any sprouts that are yellowing.
We always recommend you use fresh lemon juice and not the pre-bottled stuff at the store for fresh bright flavors.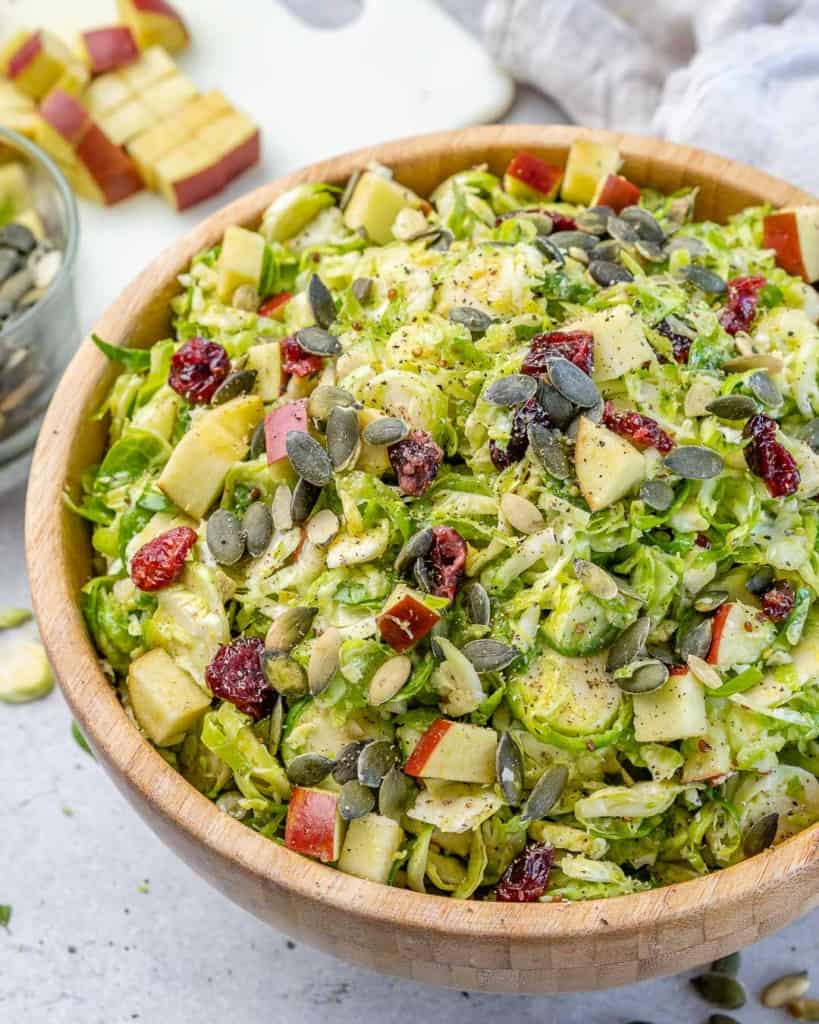 FAQs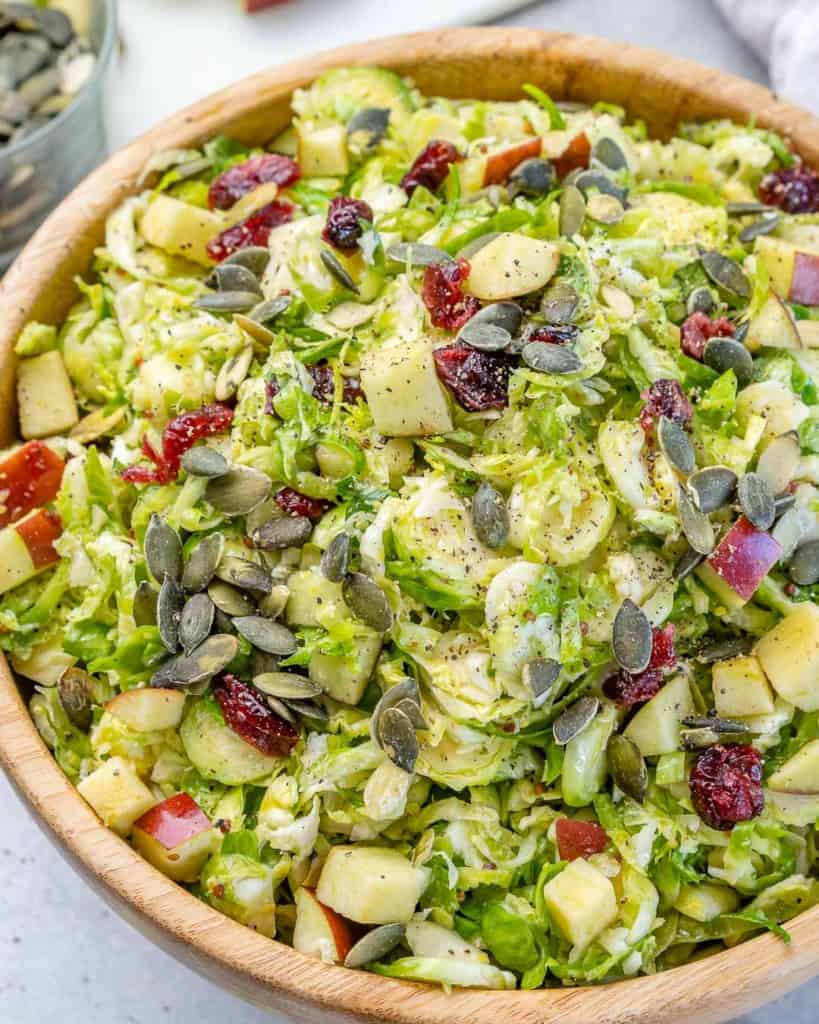 Want More Salads?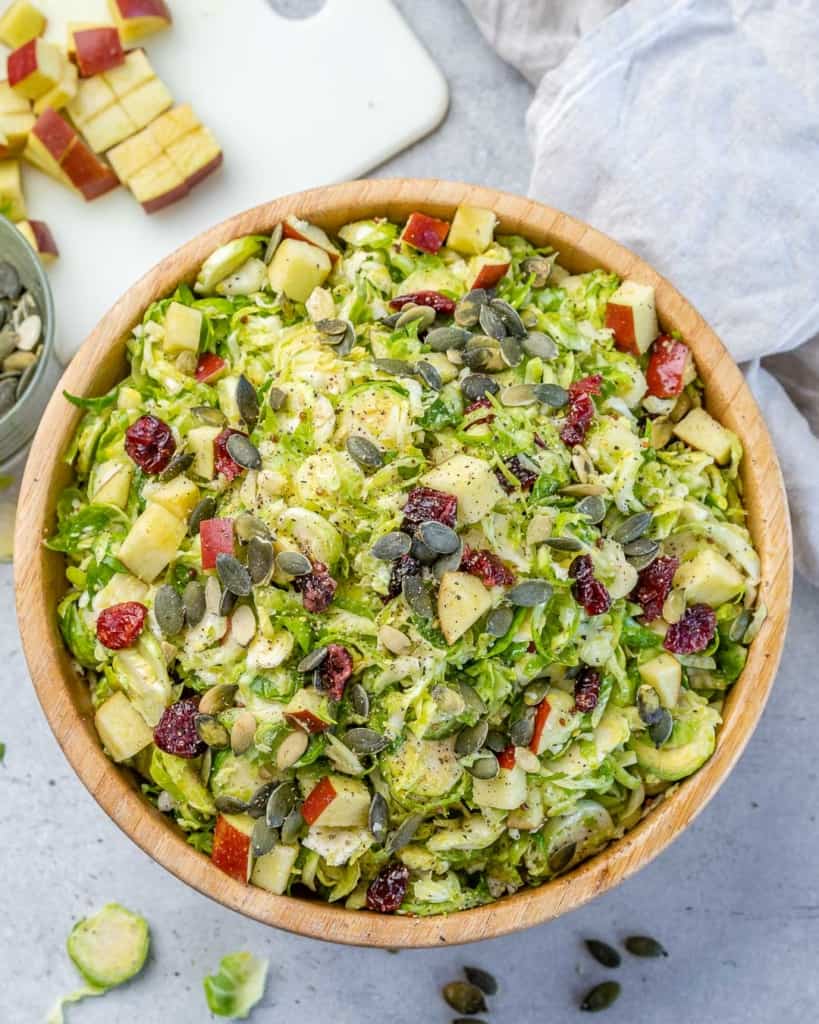 Also, if you try a recipe and you like it, leave us some feedback in the comment section below, and don't forget to rate it! We would love it if you shared it with friends and family.
Finally, please use our hashtag #healthyfitnessmeals on INSTAGRAM for a chance to be featured! FOLLOW Healthy Fitness Meals on FACEBOOK | INSTAGRAM | PINTEREST | TWITTER for all of our latest blog posts and recipes.